WalktoberFest 2013
Date:
Saturday, October 26, 2013 -

2:00pm

to

4:30pm
Location:
Boston, MA - Charlestown, MA
WalktoberFest 2013
drink+walk+drink
Saturday, Oct. 26th 2PM
SIGN UP HERE
 
Join us for our 3rd annual toast to one of America's most walkable cities.
Celebrate our region's ever increasing number of craft breweries and learn what makes Boston so walkable during our Walktoberfest pubcrawl [with snacks].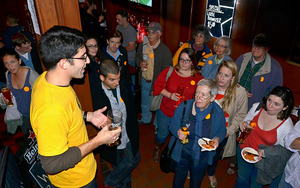 This year, the City of Boston, the National Park Service and WalkBoston collaborated on a map to encourage getting around between National Park Service and historic sites in downtown Boston on foot, ferry, bike, bus and train. We're focusing this year's WalktoberFest route in that very area!
Meet 2PM: Bell in Hand [45 Union St, Boston, MA]. 
Mingle, fuel up for our walk with some great drinks & snacks. 
Vineet Gupta, Director of Policy & Planning from the City of Boston Transportation Department, will join us to talk about many of the changes along the walk to Charlestown. We'll enjoy views of the harbor and Charlestown Navy Yard and learn about recent improvements to maximize pedestrian access in the area. [Read recent comment letters that WalkBoston has sent about the planned Boston Garden project!] 
Our Final Destination - ETA 4:30PM: Papagayo [1 Chelsea St, Charlestown, MA]. 
They'll be setting aside some space for us & providing appetizers for the group!
For more information, follow this link or email: info@walkboston.org
-----------
What does it mean to be a member of WalkBoston? 
While everyone walks, few people think about ways to make it safer, easier and more enjoyable. WalkBoston does. We play a leading role all across Massachusetts in engaging cities and towns, state agencies, residents, developers, institutions, and elected officials to work together to improve the everyday conditions for walking. With your support, WalkBoston can continue to be the resource for pedestrian issues. We look forward to helping you make your community more walkable.
For more info including membership benefits, click here.